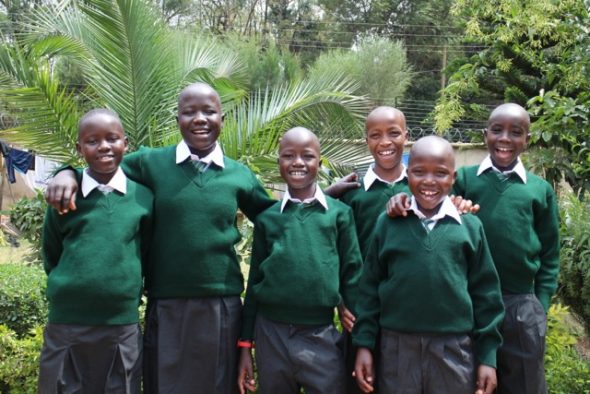 UZIMA (wholeness) is a personal development program.
The vast majority of all vulnerable children in Kenya finish High School (form 4) with a D average or below, locked in a cycle of poverty and limited prospects. A good education and then a good job seem completely out of reach. In response to this crisis, Watershed developed the Uzima program.
In rural Kenya, most of the barriers to any student participating in the learning process are simple and easily overcome. They include major deficits in English comprehension, applied knowledge, and confidence.
Rather than offering tutoring sessions, Uzima focuses on spiritual, physical, and creative mentoring for the development of the whole person.
There are two levels of focus in UZIMA:
1) Intense
Core group of between 12-15 children
Durations: through the period of the participants primary and secondary years.
– Step one: to bring children with failing school scores to a level at which they will be accepted in excellent academic schools.
– Step two: In cooperation with a responsible relative, Uzima endeavors to place and sponsor participants in schools of academic excellence.
– Enhanced development: During the school holidays, with volunteers from Kenya and abroad, participants are mentored in life skills, given spiritual training, are involved in confidence building projects, and receive academic enhancements through creative projects.
The children in this core program advance quickly and, when possible, assist Watershed in the short term UZIMA creative camps – encouraging and assisting other children.
2) Short term creative camps
This level of the program serves larger numbers of children.
Duration: from a weekend up to two week-long camps. During these short term, arts-focused camps, participants receive creative input through various art mediums including creative application of sciences. Enhancements of a creative nature have consistently helped increase confidence in participants and broaden reasoning skills – which in turn increases academic achievement. The volunteer instructors/mentors are professional artists from the UK, Europe, the USA, and Africa. Art and artists with a positive message inspire young people to develop and achieve. The target groups are often children living in children's homes in Kenya.
Results:
In a 3 year period, 75% of students in the Uzima program have gone from the lowest performing position in their class to the top third position, with more than half of them performing in the top 5 percentile. This academic success is only part of the story. The children in Uzima have developed in confidence and in their ability to interact with others in a positive manner.