Garold's book about his personal and intimate journey with Christ.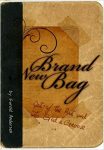 "At one point in my life, I began to journey with God. Sometime later I stopped. I called myself a solid Christian. In reality I was stuck in a rut."
Brand New Bag is about getting back to the journey. It's about listening to that dissatisfied ache in your heart and having the courage to act. In the pages of this book, Garold Andersen becomes a travel companion for those who are sick of status-quo and ready to move on.
This is an intimate face-to-face with someone who understands what it means to be a normal human and a genuine follower of Christ in the real world. Honest, entertaining, challenging, and encouraging.
If you're ready to rethink almost everything you thought you knew about God, His Messiah, and His Church – welcome to a Brand New Bag.
"Garold Andersen is a rare and real example of deep and honest commitment to God, the 'not I, but Christ' kind not many of us Christians ever see."
C. Cornelsen